There are moments when you are just plain lazy to put on makeup to head out but you still want to look good. Or there are days where you are in such a rush that you literally have a couple of minutes to get ready, but you still want to look fresh and polished. Or, you may just want to do a no makeup makeup look.
When you type in no makeup makeup tutorial, you see tonnes of posts and videos. But then you are shocked to see the list of products mentioned. They sometimes top the products used in dramatic makeup looks. So you wonder, can't I look good in 5 minutes using 5 products?
I say YES to that. Tried and tested, I did a 5 minute "makeup" look using only 5 products! I could've taken less if not for the time spent waiting for certain products to set. But hey, if you're interested in looking fresh and polished in 5 minutes using as little products as possible, enjoy this entry!
The key to this 5 minute look? NO brushes! Just use my fingers!
Step 1: The Skin
For this 5 minute look, you're not going to use foundation. Hell, that takes time and you'd have to apply it with a brush or a sponge to get an even application. So what do I opt for? An all-in-one product i.e. a tinted sunscreen moisturizer! In this one product, you have your skincare (moisturizer), a built-in sunscreen (SPF 30) and a tint that gives you a bit of coverage, almost like a lightweight foundation.
(Image source: http://www.dermstore.com/product_RESIST+Super-Light+Daily+Wrinkle+Defense+SPF+30_54593.htm)
I've been using the Paula's Choice RESIST Super-Light Daily Wrinkle Defense (SPF 30) product for a year now, and it's amazing. It leaves your skin with a soft matte finish and the tint just makes your skin look better and beautiful. And, it's so easy to apply.
Total time taken: 20 secs
Step 2: The Concealer
For a polished look, you'd still want your concealer to cover up blemishes as well as to brighten the under eye area for a refreshing appearance. Allow about a minute or two for your sunscreen to set before you proceed with concealer. I use my Make Up for Ever Full Cover Concealer on any blemish areas using my ring finger. Then I use my Tarte Rainforest of the Sea Aquacealer (due to its lightweight, serum-like consistency), place one dot each under my eyes, a dot on my forehead, a dot on the bridge of my nose, a dot on my cupid's bow and a final dot on my chin, and use my middle finger to blend everything. After this, you'd see how your skin immediately looks so much fresher and brighter, yet still very natural and skin-like.
Total time taken: 1 min 10 secs + 1 min (waiting time) + 20 secs (Step 1) = 2 min 30 secs
Step 3: The Cheeks and Highlighter
Clearly the moisturizer and concealer has kind of eliminated the natural redness you have on your skin. So I want to bring back this flush to emphasize how natural this look is. Since my skin, especially my cheeks tend to get rather oily mid day, and given how this 5 minute look omits the use of setting powders, I opted for a powder blush instead of a cream one. I went for the bareMinerals Blush (loose form) in the shade Golden Gate. This warm apricot color bear the best resemblance to how my cheeks would actually look like when flushed.
(Image source: http://www.ulta.com/blush?productId=VP11360)
I used my fingers to apply this across my cheeks, and close to the edges of my nose, again to resemble how a natural flush would look like. Make sure to blend this product well into skin for the most seamless effect.
For a natural dewy look, I threw in a stick highlighter. I've been using this one from Burberry and I've been loving it.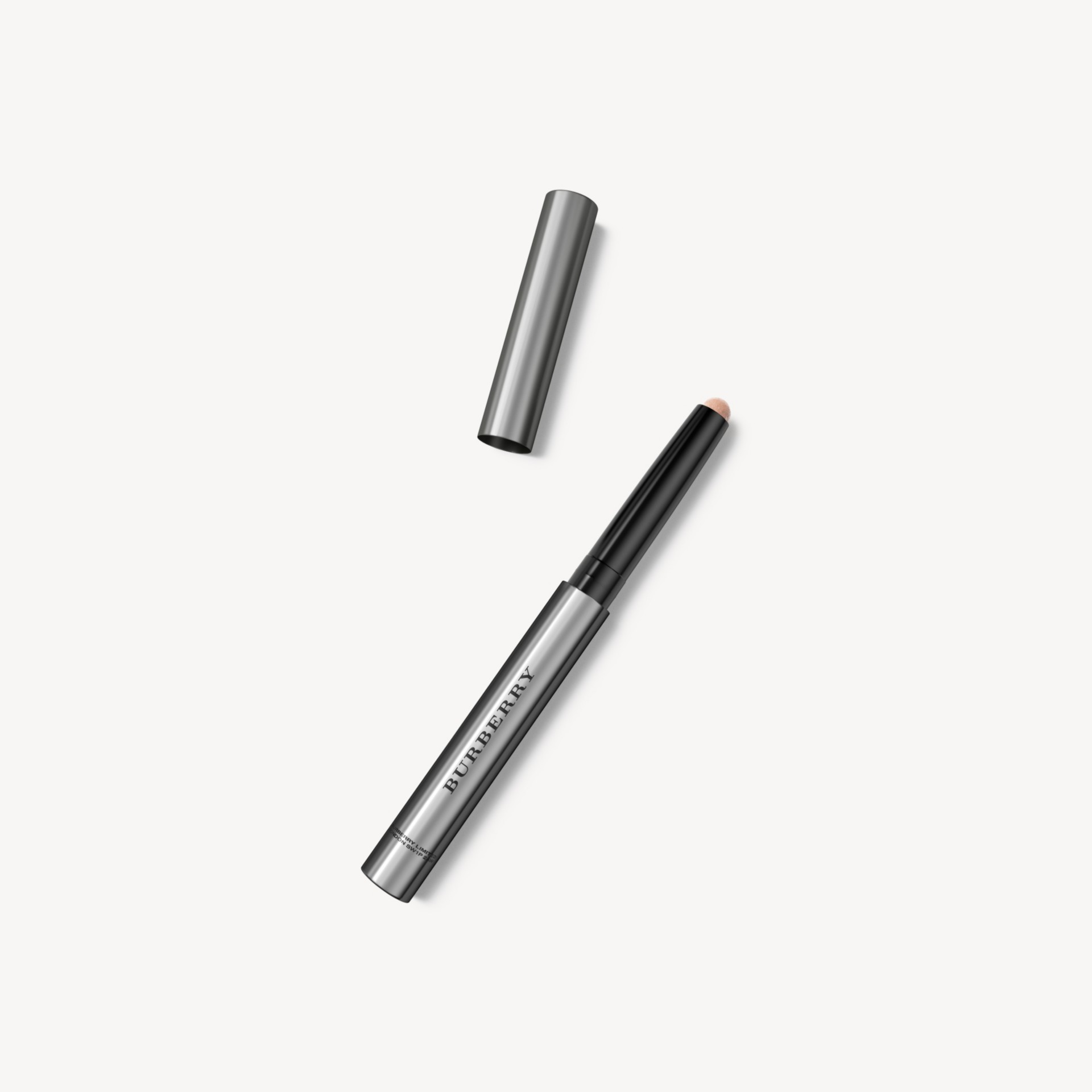 (Image source: https://uk.burberry.com/fresh-glow-highlighting-luminous-pen-nude-radiance-no01-p39844401)
This Burberry Fresh Glow Highlighting Luminous Pen is so easy to use, and the finish is so natural. It just blends in very well with your skin, almost like a glow from within. I apply the product directly onto the bridge and tip of my nose, my cupid's bow, a little on my chin, above my brow bone and on my forehead – areas that naturally catch light – and I blend them in using my middle finger.
Total time taken: 35 secs + 2 min 30 secs (Steps 1 & 2) = 3 min 5 secs
Step 4: The Eyes
Now this step is pretty optional. If you have beautiful eyes with naturally long lashes and full brow, you can totally skip this step. I prefer some help in this area.
I'd quickly fill in my brows, no definition needed. Just fill in the gaps or sparse areas with a light hand. Then I'd use natural skin tone eye color(s) to just give the eyes a sparkle. For this look, I used the Dior 5-Color Eyeshadow in Amber Nuit.
(Image source: http://www.writingwhimsy.com/dior-5-couleurs-eyeshadow-palette-contraste-horizon-ambre-nuit/)
A fully shimmer palette, the colors in Amber Nuit are very neutral and skin-like. I used the second shade, a buttery-gold almost metallic taupe all over my lids; the darkest shade on the outer corner and the peachy color just to blend everything together. And I used my fingers for the entire application.
Then I curled my lashes using the Make Up for Ever Excessive Lash Mascara that instantly gave me an open eye effect, and that just adds to the whole concept of freshness.
This look calls for no eyeliner whatsoever. Skip em!
Total time taken: 1 min 30 secs + 3 min 5 secs (Steps 1-3) = 4 min 35 secs
Step 5: The Lips
I'd say anything goes for the lips. But in line with the whole natural theme, I'd go for a lip shade that is almost similar to or a little better than my lip color, and one with a naturally moisturizing finish or a soft matte one. An ultra glossy or full matte lip would seem unnatural but those can complement this look as well, so it's really your preference. Usually I'd throw in my Fresh Sugar Tinted Lip Treatment, just because it has lip care properties and a color payoff. But for this day, I opted for a soft matte lip look and went in with the NYX Soft Matte Lip Cream in Stockholm, a mid-tone beige pink that is almost similar to my lip color. I just applied the product on my lips, without much care for outlining or definition, and then blended with my fingers.
Total time taken: 20 secs + 4 min 35 secs (Steps 1-4) = 4 min 55 secs
Grand total time taken = 4 min 55 secs (with 5 secs to spare!)
So, this is how all the 5 steps tie together after 5 minutes!
I am also proud to report that this entire look lasts me for almost six to seven hours. A little indeed goes a long way…