It's time again for us to sieve out some products that don't need to be in our collection, and this round, we're doing eyeshadow palettes! There appears to be a flood of eyeshadow palettes this summer, so it's impossible for me to cover everything that I'm not gonna buy. But let's just say my bank account is seeing a spike in savings, thanks to my lack of eyeshadow palettes expenditure this summer. So I'm just gonna bring forth palettes which I feel are going to be extremely popular, and almost shook my conviction. Let's roll!
The Balm Cosmetics Nude Beach Eyeshadow Palette (36.00 USD)
(Image source: https://thebalm.com/products/nude-beach-eyeshadow-palette?variant=37986909900)
Vol. 3 NUDE Beach Eyeshadow Palette is the third installment of The Balm Cosmetics' nude eyeshadow palettes range. Vol. 1 NUDE'tude is a very neutral palette while Vol. 2 NUDE' dude is a warmer version of its predecessor, both of which are permanent and available on their website. The newly released Vol. 3 looks very similar to Vol.2, but with additional warm reddish shades – the bright red, brick, and terra cotta. So it's basically another warm neutrals palette, nothing special about it I must say. I too find the quality of the shadows a bit too powdery for my liking. And to be honest, I'm most bothered by the placement of the second row of shadows. Yes, it is indeed quirky but unfortunately activates my OCD big time, so I'll PASS.
Urban Decay Naked Heat Eyeshadow Palette (54.00 USD)
(Image source: http://www.urbandecay.com/naked-heat-by-urban-decay/ud854.html)
First, I will say on record that this is a gorgeous, well conceptualized palette. The color selection and placement are well thought out and very inviting, though the swatches reveal a couple of colors to look pretty similar to one another. But it's after all another warm-toned neutral palette yet again. It's clearly in the footsteps of ABH Modern Renaissance, Violet Voss Holy Grail, Viseart Warm Neutral Mattes, Smashbox Ablaze Cover Shot, Natasha Denona Sunset Palette and it's not looking very different from The Balm Nude Beach palette, is it? Bottom line is, if you've already owned a warm neutrals palette especially if it's from the list above, you DO NOT need this Urban Decay one. However, if you do not own any warm-toned neutrals, would love to try one and are really smitten by this palette, then you are excused.
Kat Von D Saint and Sinner Eyeshadow Palette (price TBC)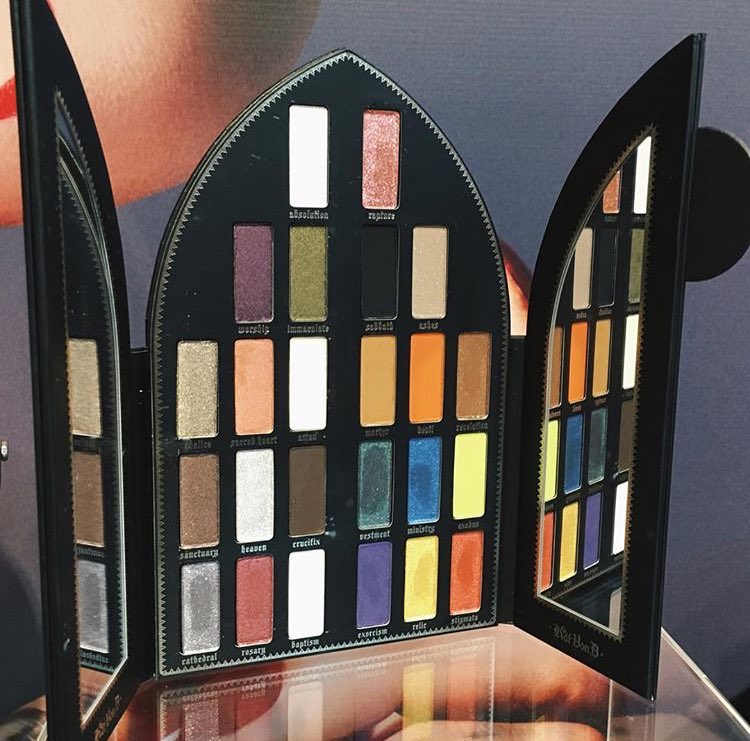 (Image source: https://twitter.com/trendmood)
Now, this is a highly anticipated palette and Kat has sprinkled snippets of its makings. Held as probably one of the most artistic palette design ever, it features a range of warm, cool and neutral shades with varying finishes. Well, maybe I'm just not a creative makeup artist, but I truly find the color selection and placement in this palette extremely disorienting. Neither do I understand why the left or right section is characterized as saint and sinner. It's just too all over the place for me, unlike the Mi Vida Loca Remix palette which features a logical sequence of colors. I also don't see myself constantly reaching out for this palette. It isn't on the market yet and Kat and her team haven't officially released any info on the price, but if her previous Matte Metals and Mi Vida Loca palettes are any indication, I'd ballpark the cost to be upwards of 60 USD. 60 USD for something I will probably only use once in a blue moon? NOPE!
Too Faced Glitter Bomb Eyeshadow Palette (45.00 USD)
(Image source: https://www.toofaced.com/p/eye-shadow-palettes/glitter-bomb/)
Yes, we all immediately cast our doubts once Too Faced released this palette. If it is in any way reminiscent of the Nikkietutorials x Too Faced collaboration, then we may be in for a huge letdown when the shadows we receive are nowhere near in quality and pigmentation to the ones Nikkie and a host of other big influencers swatched. Well, drama and inconsistency aside, even if the shadows in this palette are great, I personally don't see why I should purchase a full glitter palette. This may appeal to those who use glitter all the time, but for someone like me who barely uses it, I won't see much usage from this palette. If you're obsessed with glitter and willing to take a chance with Too Faced, I wish you luck. As for me, I'm just gonna sit back and enjoy the review videos of this one.
Inglot Cosmetics Canada x Krystal Clear Makeup, Inglot x KCM Beauty Chameleon (139.00 CAD)
(Image source: https://inglotcosmetics.ca/pages/inglot-x-kcm)
Inglot Cosmetics produces one of my favorite single eye shadows – the Freedom System Eyeshadow. I adore the formula and pigmentation, crazy for the color selection and finishes, and of course LOVE the price point (7.00 USD per single shadow). Unfortunately, this collaboration between Inglot Canada and Krystal Clear Makeup is a huge disappointment for various reasons. First, the price point. 139 CAD for ten pans??? Wow, that is really expensive for a non-custom palette! I don't know how Inglot jumps from its affordable pricing to one that resembles luxury high-end brands. Indeed Inglot's eyeshadow pans hold significantly greater product than say Anastasia Beverly Hills shadow singles, and the empty 10-pan palette itself will set you back 16 USD. But still I wouldn't spend that much on a palette, especially if I have no control over the shade selection. Second, this palette is marketed as a super versatile palette – its shades are not just for your eyes, they are also made to be used for contour, blush, highlight and even as a setting powder. While minimalists would appreciate such versatile palettes, someone who invests time and money to research and purchase the best contour, blush, highlight and setting powder out there wouldn't maximize the versatility of this palette. I for one wouldn't trade my favorite contour, blush, highlight and setting powder for the ones in this palette. Finally, assessing it as an eyeshadow palette per se, I'm not too thrilled by the color selection. I believe the shade options are restricted due to the fact that some of the shadows have to serve as contour, highlight and powder colors as well. I guess I'm no beauty chameleon after all.
Morphe Cosmetics x Jaclyn Hill, The Jacyln Hill Palette (38.00 USD)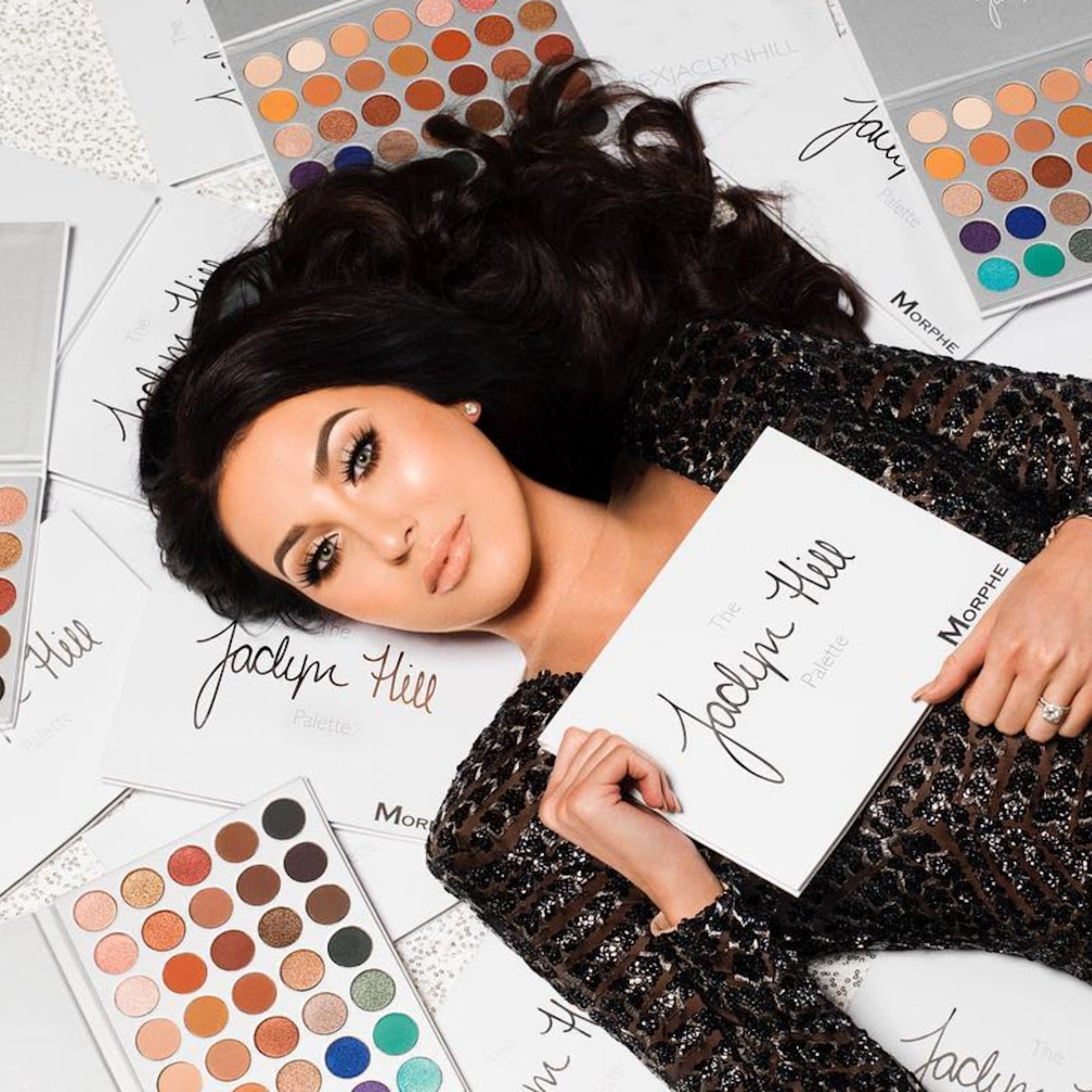 (Image source: https://www.popsugar.com/beauty/Morphe-x-Jaclyn-Hill-Palette-43609854)
The most talked about palette for many months – the Morphe x Jaclyn Hill palette. Yes, it spent two years in the making, had its launch postponed a couple of times, and to top it all, had a date to reveal its launch date. Amidst the Morphe scandal and controversies, Jaclyn Hill came through with her palette, dedicated to her loving subscribers. I always chuckle to myself a little when YouTubers claim that their gift to their fans and subscribers is something that the latter have to spend money on. Giveaways are a gift to fans and subscribers. Products you expect us to buy? Hmm… I'd say not. Anyway, that aside, the Jaclyn Hill palette features 35 shades, as with the other Morphe 35 series palettes. The difference? First is the price point. While other Morphe 35 series palette costs 22.99 USD, the Jaclyn Hill palette is a whopping 38.00 USD. To be fair, yes it is considered affordable since you get 35 eyeshadows for 38 bucks, which means about a dollar per eyeshadow. But it's clearly a huge shift from Morphe's previous pricing. Jacyln mentioned though that she had full control of this palette, from the colors to the consistency, even to the level of press on each shadow. And if you take a look at the palette, it is indeed a gorgeous selection of colors suitable for many skin tones. Why wouldn't I buy it? Because owning a 35-pan eyeshadow palette is too much for a non-makeup artist like myself. Buying this 35-pan palette will render my other eyeshadow palettes moot. If I had known this palette would exist, I wouldn't have purchased any eyeshadow palettes and would just wait for this one and use only it. I mean 35 shadows??? Come on. Why would I need 35 shadows for? I know I don't need it. About three quarter of the colors in this palette exist within my eyeshadow collection. Would I buy this entire palette just for that last quarter of colors? I don't think so. I believe this palette is great for beginners who either have not owned any eyeshadow palettes, or have only one or two. It is also meant for eyeshadow collectors, makeup artists and fans of Jaclyn Hill. Though I like Jaclyn, I would save my 38 bucks.
I hope you are not too tempted by all the summer collection releases going on now. Before you add that to cart, find ten reasons why you shouldn't purchase it. If you manage to get at least one reason, it's a sign not to buy. Till the next one.