Indeed makeup has no rules. You can pretty much use any colors wherever you want, using whatever technique you fancy and pull it off as art. But sometimes (and for me that means most of the time), you wanna be a little bit more grounded in your makeup. By that I mean knowing exactly what works for you and what complements your features best. And with certain looks, especially bold looks like a red lip, you wanna be sure you "get it right".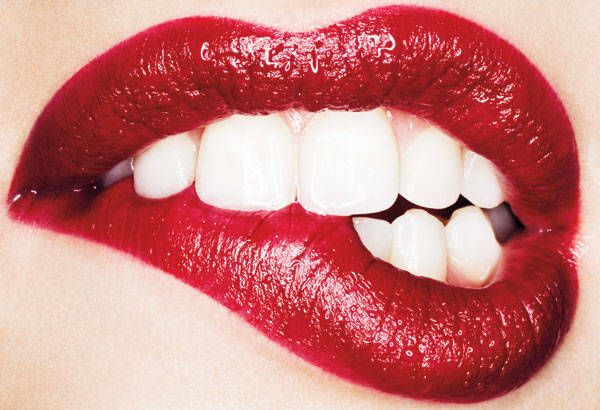 (Image source: http://www.harpersbazaar.com/beauty/makeup/advice/a999/red-lips-fall-2013-0813/)
I'm a huge fan of red lip, but more of seeing it on others rather than on myself. To me, a red lip is a bold statement; how you pull it off and what you pair it with can totally change the vibe you're bringing to the house. It's not as forgiving as a neutral lip where, really, anything goes. Since a red lip is rather vivid and prominent, doing it "wrong" can make me feel uneasy. That is why I rarely wear a red lip. I feel it's just too much work to think of how I wish to "perform" the statement. Now, I'm not imposing this inhibition on anyone – there are millions out there who are very easygoing when it comes to red lips and that is totally cool. I'm only speaking for myself here based on how I feel about red lips. 
But I know that at the end of the day, girls and red lips are inseparable. No matter how I perceive it to not be the easiest to pull off, I still want to don a red lip. So, over the years I've been experimenting a bit more with red lips and seeing what works best for me and what I feel most comfortable in. And I think I managed to zero in on two specific looks that best complement the red lips for myself:
The Edgy & The Sophisticate
Again, I would like to say that these are not the only two looks you can pair with a red lip. There are tons of other looks out there. These are specifically the ones I love and I feel most comfortable in. So if you're interested to know more about these looks, do read on.
The Edgy
I usually regard high fashion covers to be antithetical to my own preferences for I find them to always be at the ends of the spectrum, never in the middle. The looks are either too bold or what I would define as "unwearable". But as of late, I've been seeing ultra inspiring high fashion looks that now tend to be a hybrid of bold and wearable. In particular, I have been noticing this trend of warm, bold shadows on the eyes paired with a bold lip and I've gotta admit this bold on bold thing is kinda appealing to me. For one, the look, though bold, is minimalist. Let me illustrate that with The Edgy look.
The Edgy is a modern and chic look that rests on two things – using similarly toned bold colors for both eyes and lips and being minimalist for the rest of the look. Here I went in with warm reddish pink tones on my eyes and have the colors blown out to above my crease. The colors I used were Raw Sienna, Burnt Orange and Realgar from my Anastasia Beverly Hills Modern Renaissance palette as my transition and crease colors, followed by Red Ochre (ABH Modern Renaissance), 464 Double Sparkle and 55 AMC (Inglot Cosmetics Freedom System Eyeshadow) on my lids. Blending is key to achieve that blown out look. Furthermore, the eye look focuses on the eyeshadows. Notice that no eyeliner of any sort is used. That's one of the minimalist nature of this look.
As for the complexion, I tried to keep it pretty monochromatic – no obvious contour or blush. The only thing I did was a teeny tiny touch of a soft pink blush on my cheeks (almost like a natural flush of color) to match up with the pink vibes from the eye makeup. I personally love pairing this look with a much tanner skin therefore I applied a foundation that is about two shades darker than my original skin tone, and I made sure to bronze up around the parameters of the face since this look is contour-free. Since my eye makeup bears some pink hues, I chose a red lipstick with a subtle pink undertone. The decision to go for a cream/satin finish instead of a matte one is to give a softer look since the complexion is pretty monochromatic. Here I used a lipstick from Smashbox – Be Legendary Cream Lipstick in the shade Legendary.
The Sophisticate
The Sophisticate is a pretty common red lip look that most beauty gurus have done a tutorial on. It's this classic, timeless glam that shines bold elegance and appeal, and probably one of the most go-to red lip makeup today, and for good reason. It is indeed a statement look – with a truly bold red lip and bold wing liner but also bears some hints of minimalism.
Unlike The Edgy where eyeshadow dominates the eye look, The Sophisticate goes easy on that. I've seen this look done without eyeshadow and still looks ultra flattering. If you wish to put on eyeshadow, just do so for contour or definition. Doing a cut crease or a halo eye would turn the glam up too much that the focus will veer away from that statement red lip (unless of course that's the outcome you want). I stick to mattes for this eye look, using only the colors White, Cream and Taupe from my Lorac PRO eyeshadow palette to highlight the brow bone and inner corners and give a little bit of definition to my crease. The eyeshadows should be subtle and not overpowering for this look, for the master here is the wing liner. You'd wanna focus more on that than your shadows.
A bold wing liner always puts me on the edge of my seat. But what I find to be an almost foolproof technique for me is to map out the shape of the liner first using a fine tip brush and a gel or cream liner (I used the Bobbi Brown Long-Wear Gel Eyeliner with the Bobbi Brown Ultra Fine Eyeliner Brush) and then filling it in twice, first with the gel liner used earlier, then again with an ink or a liquid liner (I used the Kat Von D Tattoo Liner). Mapping the shape out with a brush gives you more control over the application, hence minimizing mistakes. Even if you make mistakes, gel liners are easier to remove than an ink or a liquid one. Filling in the liner twice, first with the gel liner and then again with a liquid liner helps to darken the liner and make it more outstanding and not to mention, long-lasting.
For the complexion, since you have a bold wing and a bold lip too, you gotta balance it out with a more defined face. Therefore, contour is needed. So, do your contour as you always do. It doesn't have to be exceptionally sharp. Just add a little definition. I would avoid any blush color as that would bring this look from bold minimalist to scary clown. Just use the bronzer to warm up the skin. As for lips, I chose to go with a matte red lipstick to match the matte black eyeliner and to give a more dramatic overall effect. I used the Kat Von D Everlasting Liquid Lipstick in the shade Outlaw.
So, that's it for the two ways I rock a red lip. I'm sure there are 234523749875 other ways to do it. You just find what works for you and make you feel the best. Till the next one!